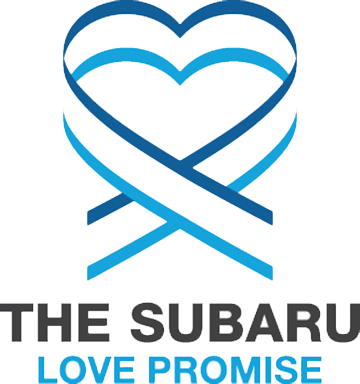 What is the Subaru Love Promise?
Subaru and our retailers believe in making the world a better place and the Subaru Love Promise is our vision of respecting all people. This is our commitment to show love and respect to our customers and to work to make a positive impact in the world.
How is Green Subaru dedicated locally to the Love Promise?
Our Love Promise can be seen in various partnerships with local charities and non-profits. We're grateful for the opportunity, not only to be a part of our community, but to serve it as well.
SPARC, St Patricks School
Central IL Red Cross, Coats for Kids
I Care L T Care Ombudsman, March of Dimes, St Jude , Catholic Charities
Love Promise Stories from Green Subaru
Subaru and Green Subaru believe in making a positive impact on the communities in which we live and work. We uphold that belief through our Love Promise Community Commitment. Every month, we select inspiring stories from customers and partners from around our area who strive to support our collective commitment and feature them here
Green Subaru + St John's 07-18-19 - Michelle M
On July 18, 2019, the Illinois Chapter of the Leukemia & Lymphoma Society and Green Subaru in Springfield, Illinois had the pleasure of delivering blankets to children and nurses in the St. John's Children's Hospital as part of the Subaru Loves to Care program. This incredible act of generosity was warmly received by the St. John's staff who were thrilled to deliver blankets to their patients. A nurse accompanied the LLS volunteer and two representatives from Green Subaru to ensure that all patients had the opportunity to receive a blanket. Many of the patients and their parents were very grateful and their wonderful smiles made the experience truly wonderful. One patient in particular was so excited and had a huge smile on his face! He happily posed for pictures with the Green Subaru staff and the LLS volunteer. He was so happy to have visitors that he bravely decided to take a few first steps on his ankle that was in a brace. Progress! Many thanks to everyone at Green Subaru and St. John's Children's Hospital, not only for a memorable day, but for supporting the LLS mission to cure blood cancers and improve the quality of life for patients and their families.
---
Just called to say "thank you". - Becky L
"I just finished my first meal from you and I just want to call and say thank you so much! It was delicious and I appreciate it. Thank you!", said Douglas Kaiser, a participant in Community Action Partnership of Central Illinois(CAPCIL) Senior Nutrition, Meals on Wheels Program. Douglas is one of the 15 participants who are now able to receive meals on wheels due to the addition of the 2018 Subaru Outback CAPCIL received from the 50 cars for 50 years event. He truly enjoys his warm meals and warm smiles that he receives. As part of his thankfulness, he loves to draw nametags for his meal driver, Emily, and her daughter. He also draws nametags for Becky, the Nutrition Director. The nametags are so pretty and we love to display them in our office. We just hit the 6000-mile mark on deliveries for the Subaru Outback and took the vehicle in for service at our nearest Subaru retailer, Green Subaru in Springfield, Illinois. The staff was all very friendly and helpful and we are incredibly thankful for their generosity and support of our program. We plan to continue to partner with them in upcoming events that will help support our meals on wheels program.
---
Enhancing lives - Becky L
Robert Franklin is one of the new clients that we began delivering to after we received the new Subaru Outback. "The meals are great!" says Robert, "They taste very good and the young girl that delivers is a very nice young lady!". Robert said the meals are very helpful and he is very glad to have them delivered. The Subaru Outback allows us to serve more clients because we don't have the overhead of leasing or purchasing a delivery vehicle, freeing up money that can now be used to purchase, prepare and deliver more meals to more clients. We truly feel that having the Subaru Outback is allowing us to enhance the lives of those we may not have been able to reach before. We are honored to have the Subaru and will continue to reach out to those in need of the warm meals and warm smiles.
---
Santa delivers the Subaru Outback - Stephen w
On Saturday, December 2, 2017 CAPCIL held their second annual Christmas Luncheon at the Lincoln Banquet Center 201 Madigan Dr. Lincoln, IL. To promote the delivery of the new Subaru Outback donation we invited a Subaru Representative, the public and the media to the "Reveal" of the vehicle. We had approximately 100 people in attendance for the reveal event and over 300 people attended the luncheon. "Santa" drove the Subaru up to the stage of the event and handed the keys over to Becky Leamon, CAPCIL Nutrition Service Director. John Franz, Subaru Director of Chicago Zone was present and spoke at the event along with a meals on wheels volunteer and client. The meal client talked about how much the program has helped him not just through the nutrition but the friendliness of the drivers has helped him feel better. After he started feeling better he was able to start volunteering at a meal congregate site, so it all came back around full circle. He is now living in a facility where congregate meals are served and is able to help deliver meals to some of the homebound individuals in his building.
---
Subaru Loves to Care program - Kate K
It was an honor as an LLS employee to be a part of the delivery of blankets and craft kits by Green Subaru to St. John's Children's Hospital in Springfield, IL on 7/21. St. John's is a great facility that provides services for children for miles and miles. And Green Subaru has been participating in the Loves to Care program for years. 2 great organizations!
---